Dr. Hao Su is currently a postdoctoral research fellow at the Wyss Institute for Biologically Inspired Engineering at Harvard University. He was a Research Scientist at Philips Research North America from 2013-2015. His research interests include surgical robotics, wearable robotics and soft robotics. He is passionate about designing and translating robotic systems to clinical products. He has been collaborating with professors and researchers from Harvard, Johns Hopkins, Vanderbilt University, NIH, and Queens University for robot design and clinical trials. He holds patents for surgical robotics and minimally invasive medical devices.
Dr. Su received the Best Medical Robotics Paper Finalist Award in the IEEE International Conference on Robotics and Automation (the best robotics conference). He was the Principal Investigator for the project "Haptic Training and Interventional System for MRI-guided Percutaneous Needle Placement" funded by the Advanced Simulation & Training Award by the Link Foundation and Dr. Richard Schlesinger Award from the American Society for Quality.
Dr. Su is a Junior Chair of the Technical Committee on Mechanisms and Design of the IEEE Robotics and Automation Society (RAS). He is Associate Editor of International Conference on Robotics and Automation. He is the BioRobotics Theme Editor of Engineering in Medicine and Biology Society (EMBC). He serves as a reviewer for several leading robotics journals.
Dr. Su received the B.S. degree from the Harbin Institute of Technology, one of the top three engineering universities in China, and the M.S. degree in mechanical and aerospace engineering under the guidance of Prof. Venkat Krovi from the State University of New York, Buffalo, NY, USA, and received the Ph.D. degree under the guidance of Prof. Gregory Fischer in mechanical engineering from the Worcester Polytechnic Institute, Worcester, MA, USA.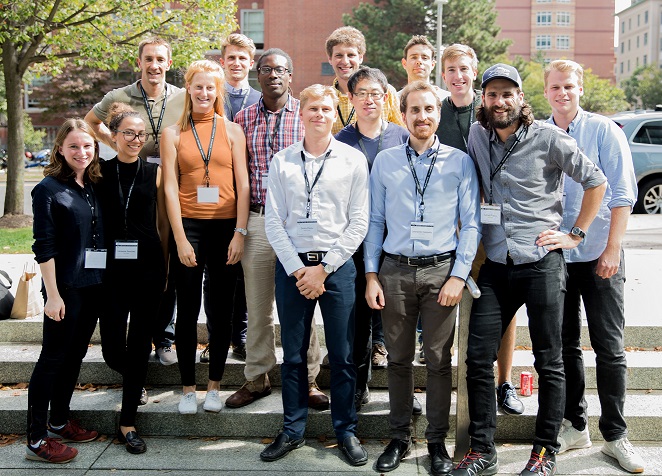 Biodesign Lab postdocs and staff at the Wyss Symposium Mechanotherapeutics: From Drugs to Wearables